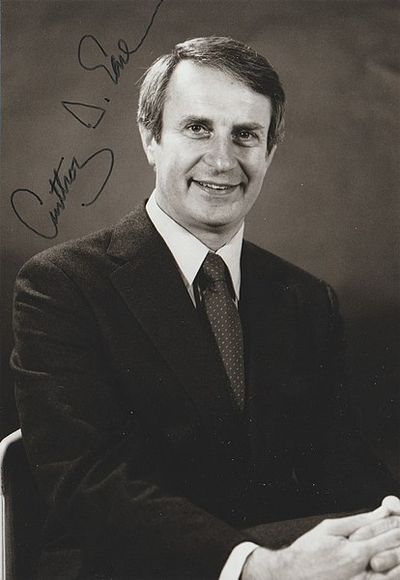 Lansing, Michigan, United States
---
About Anthony S. Earl
---
Anthony Scully Earl (born April 12, 1936) is an American politician and a member of the Democratic party and served as the 41st Governor of Wisconsin from 1983 until 1987. He graduated from Michigan State University in 1958 and earned a J.D. from the University of Chicago. After four years in the Navy, including two years as a legal officer, Earl made his way to Wisconsin in 1965.[citation needed]
External Links:
Birth Chart and Planetary Positions of Anthony S. Earl
---
Astrological portrait of Anthony S. Earl
---
Here you will read about qualities of Anthony S. Earl that may be familiar to you as well as a few that might seem new. Together the various features listed below, comprise an astrological portrait of Anthony S. Earl as a unique person
For a more detailed analysis, check out Astro Reports.
How Anthony S. Earl Appears to Others:
The Essence of Who Anthony S. Earl Is:
Anthony S. Earl's Emotions and Feelings:
How does Anthony S. Earl Think and Communicate:
Anthony S. Earl's Love and Romance:
Anthony S. Earl's Drive and Ambition:
Current important phases/events in Anthony S. Earl's life
---
Anthony S. Earl's relationships
---
Astrological aspects and planetary data / tags for Anthony S. Earl: Sun 22 Aries, Moon 24 Sagittarius, Mercury 24 Aries, Venus 1 Aries, Mars 7 Taurus, Jupiter 24 Sagittarius, Saturn 17 Pisces, Uranus 4 Taurus, Neptune 14 Virgo, Pluto 25 Cancer, Asc 4 Gemini, Mc 9 Aquarius, Sun Trine Moon, Moon Trine Mercury, Sun Square Pluto, Mercury Square Pluto, Moon Conjunct Jupiter, Sun Trine Jupiter, Sun Conjunct Mercury, Sun Semi Square Ascendant, Moon Sesquiquadrate Mars, Moon Quincunx Pluto, Moon Semi Square Midheaven, Mercury Trine Jupiter, Venus Sextile Ascendant, Mars Sesquiquadrate Jupiter, Mars Conjunct Uranus, Mars Square Midheaven, Jupiter Quincunx Pluto, Jupiter Semi Square Midheaven, Saturn Semi Square Uranus, Saturn Opposition Neptune, Uranus Semi Sextile Ascendant, Uranus Square Midheaven, Ascendant Trine Midheaven
Categories related to Anthony S. Earl: Living people, April 12 births, Michigan, Wisconsin Democrats, Members of the Wisconsin State Assembly, Michigan State University alumni, Democratic Party state governors of the United States, 20th-century American naval officers, Wisconsin lawyers, 1936 births, Military personnel from Michigan, Politicians from Lansing, Governors of Wisconsin
Photo attribution: Anthony Earl for Governor campaign. I purchased the original in January 2018, and make it available for others to use., Anthony Earl, Governor of Wisconsin. Circa 1983. Used in print advertisements and for public relations items including fulfilling requests for autographed photos.