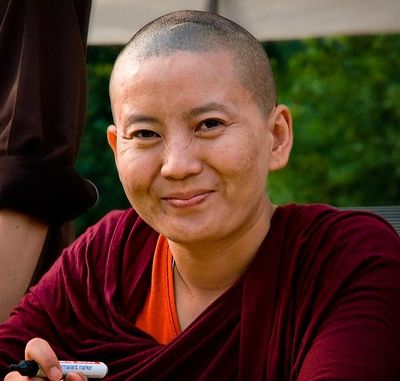 Kathmandu, Bagmati Province, Nepal
---
About Ani Choying Drolma
---
Ani Choying Drolma (born June 4, 1971), also known as Choying Dolma and Ani Choying (Ani, "nun", is an honorific), is a Nepalese Buddhist nun of Tibetan origin and musician from the Nagi Gompa nunnery in Nepal. She is known in Nepal and throughout the world for bringing many Tibetan Buddhist chants and feast songs to mainstream audiences. She has been recently appointed as the UNICEF Goodwill Ambassador to Nepal.
External Links:
Birth Chart and Planetary Positions of Ani Choying Drolma
---
Astrological portrait of Ani Choying Drolma
---
Here you will read about qualities of Ani Choying Drolma that may be familiar to you as well as a few that might seem new. Together the various features listed below, comprise an astrological portrait of Ani Choying Drolma as a unique person
For a more detailed analysis, check out Astro Reports.
How Ani Choying Drolma Appears to Others:
The Essence of Who Ani Choying Drolma Is:
Ani Choying Drolma's Emotions and Feelings:
How does Ani Choying Drolma Think and Communicate:
Ani Choying Drolma's Love and Romance:
Ani Choying Drolma's Drive and Ambition:
Current important phases/events in Ani Choying Drolma's life
---
Ani Choying Drolma's relationships
---
Astrological aspects and planetary data / tags for Ani Choying Drolma: Sun 13 Gemini, Moon 18 Libra, Mercury 24 Taurus, Venus 20 Taurus, Mars 14 Aquarius, Jupiter 0 Sagittarius, Saturn 28 Taurus, Uranus 9 Libra, Neptune 1 Sagittarius, Pluto 26 Virgo, Sun Trine Mars, Sun Trine Uranus, Mercury Conjunct Saturn, Mercury Conjunct Venus, Mercury Sesquiquadrate Uranus, Mercury Trine Pluto, Mars Trine Uranus, Mars Sesquiquadrate Pluto, Jupiter Opposition Saturn, Jupiter Conjunct Neptune, Jupiter Sextile Pluto, Saturn Opposition Neptune, Saturn Trine Pluto
Categories related to Ani Choying Drolma: Living people, Nepali-language singers, June 4 births, 20th-century Buddhist nuns, 21st-century Buddhist nuns, 21st-century women singers, People from Kathmandu, 1971 births, Nepalese singers, Tibetan-language singers, Performers of Buddhist music, Nepalese female singers, Tibetan singers, Tibetan Buddhists from Nepal, Nepalese people of Tibetan descent, Nepalese Buddhist nuns
Photo attribution: Geraldstiehler, Own work