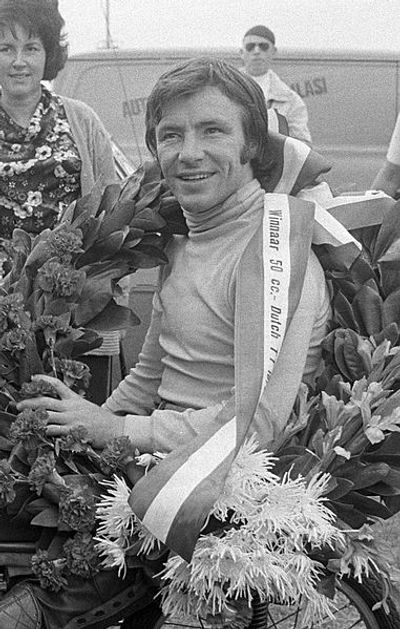 Zamora, Castille and León, Spain
---
About Angel Nieto
---
Ángel Nieto Roldán (25 January 1947 – 3 August 2017) was a Spanish professional Grand Prix motorcycle racer. He was one of the most accomplished motorcycle racers in the history of the sport, winning 13 World Championships and 90 Grand Prix victories in a racing career that spanned twenty-three years from 1964 to 1986. His total of 90 Grand Prix victories ranks him third only to the 122 by Giacomo Agostini, and the 115 for Valentino Rossi. In 2011, Nieto was named an FIM Legend for his motorcycling achievements.
External Links:
Birth Chart and Planetary Positions of Angel Nieto
---
Astrological portrait of Angel Nieto
---
Here you will read about qualities of Angel Nieto that may be familiar to you as well as a few that might seem new. Together the various features listed below, comprise an astrological portrait of Angel Nieto as a unique person
For a more detailed analysis, check out Astro Reports.
How Angel Nieto Appears to Others:
The Essence of Who Angel Nieto Is:
Angel Nieto's Emotions and Feelings:
How does Angel Nieto Think and Communicate:
Angel Nieto's Love and Romance:
Angel Nieto's Drive and Ambition:
Current important phases/events in Angel Nieto's life
---
Angel Nieto's relationships
---
Astrological aspects and planetary data / tags for Angel Nieto: Sun 4 Aquarius, Moon 5 Pisces, Mercury 5 Aquarius, Venus 17 Sagittarius, Mars 29 Capricorn, Jupiter 24 Scorpio, Saturn 5 Leo, Uranus 18 Gemini, Neptune 10 Libra, Pluto 12 Leo, Asc 26 Scorpio, Mc 11 Virgo, Sun Opposition Saturn, Sun Conjunct Mars, Moon Quincunx Saturn, Mercury Opposition Saturn, Sun Conjunct Mercury, Sun Semi Sextile Moon, Sun Semi Square Venus, Sun Sesquiquadrate Uranus, Moon Semi Sextile Mercury, Mercury Semi Square Venus, Mercury Conjunct Mars, Mercury Sesquiquadrate Uranus, Venus Semi Square Mars, Venus Opposition Uranus, Mars Sextile Ascendant, Jupiter Semi Square Neptune, Jupiter Conjunct Ascendant, Saturn Semi Square Uranus, Saturn Conjunct Pluto, Neptune Sextile Pluto, Neptune Semi Square Ascendant, Neptune Semi Sextile Midheaven, Pluto Semi Sextile Midheaven
Categories related to Angel Nieto: Spanish motorcycle racers, 50cc World Championship riders, 2017 deaths, 1947 births, January 25 births, Grand Cross of the Order of Civil Merit, Road incident deaths in Spain, Spain, People from Zamora, 250cc World Championship riders, 125cc World Championship riders, Order of Civil Merit members, 80cc World Championship riders
Photo attribution: Peters, Hans / Anefo, Nationaal Archief