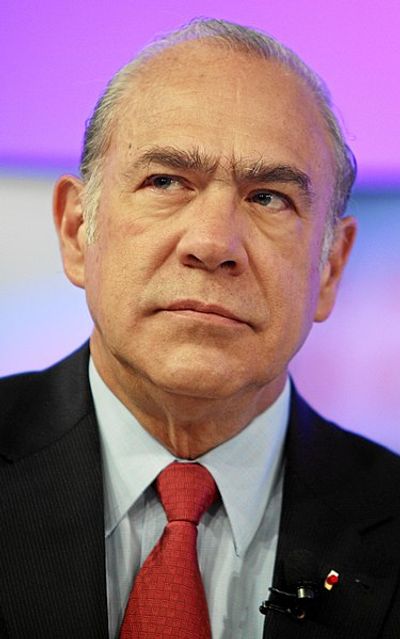 José Ángel Gurría Treviño
Tampico, Tamaulipas, Mexico
---
About Ángel Gurría
---
José Ángel Gurría Treviño, also known as Ángel Gurría, (born 8 May 1950) is a Mexican economist and diplomat. Since 1 June 2006, he has been the Secretary-General of the Organisation for Economic Co-operation and Development (OECD).
Birth Chart and Planetary Positions of Ángel Gurría
---
Astrological portrait of Ángel Gurría
---
Here you will read about qualities of Ángel Gurría that may be familiar to you as well as a few that might seem new. Together the various features listed below, comprise an astrological portrait of Ángel Gurría as a unique person
For a more detailed analysis, check out Astro Reports.
How Ángel Gurría Appears to Others:
The Essence of Who Ángel Gurría Is:
Ángel Gurría's Emotions and Feelings:
How does Ángel Gurría Think and Communicate:
Ángel Gurría's Love and Romance:
Ángel Gurría's Drive and Ambition:
Current important phases/events in Ángel Gurría's life
---
Ángel Gurría's relationships
---
Astrological aspects and planetary data / tags for Ángel Gurría: Sun 17 Taurus, Moon 13 Aquarius, Mercury 26 Taurus, Venus 3 Aries, Mars 22 Virgo, Jupiter 3 Pisces, Saturn 12 Virgo, Uranus 2 Cancer, Neptune 15 Libra, Pluto 15 Leo, Asc 9 Cancer, Mc 0 Aries, Sun Trine Mars, Moon Trine Neptune, Moon Opposition Pluto, Moon Quincunx Saturn, Sun Square Pluto, Sun Quincunx Neptune, Sun Trine Saturn, Sun Square Moon, Sun Semi Square Venus, Sun Semi Square Uranus, Sun Semi Square Midheaven, Moon Semi Square Midheaven, Mercury Trine Mars, Mercury Semi Square Ascendant, Venus Semi Sextile Jupiter, Venus Square Uranus, Venus Sesquiquadrate Pluto, Venus Conjunct Midheaven, Jupiter Trine Uranus, Saturn Sextile Ascendant, Uranus Semi Square Pluto, Uranus Square Midheaven, Neptune Sextile Pluto, Pluto Sesquiquadrate Midheaven
Categories related to Ángel Gurría: 1950 births, Living people, Harvard University alumni, May 8 births, Institutional Revolutionary Party politicians, National Autonomous University of Mexico alumni, Mexican economists, Politicians from Tamaulipas, Alumni of the University of Leeds, Recipients of the Order of the White Star, People from Tampico, Tamaulipas, OECD officials, 1st Class, Knights Grand Cross of the Order of Orange-Nassau, Mexican Secretaries of Finance, Mexican Secretaries of Foreign Affairs
Photo attribution: World Economic Forum, Flickr: Angel Gurria - World Economic Forum Annual Meeting 2012