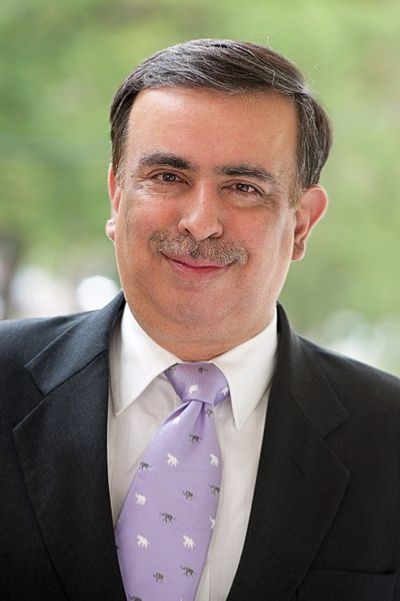 Srinagar, Jammu and Kashmir, India
---
About Amitabh Mattoo
---
Amitabh Mattoo (born 26 June 1962, Srinagar) is one of India's leading thinkers and writers on international relations. He was awarded a Padma Shri by the Government of India in 2009. He is Professor of Disarmament Studies at Jawaharlal Nehru University and Honorary Professor of International Relations at the University of Melbourne. He serves as Chairman of the Governing Board of Miranda House, University of Delhi, the highest ranked women's college in India. He has also been a member of the Lancet Commission on Adolescent Health and Wellbeing. In 2002, he was the youngest person to be appointed as Vice Chancellor of a public university in independent India.[citation needed] Mattoo's advice on policy matters has been sought across political parties and across governments, including by Prime Ministers Atal Behari Vajpayee and Dr Manmohan Singh.[citation needed] Until 19 June 2018, he served as Advisor to the Chief Minister of Jammu and Kashmir, with the status of a Cabinet Minister. Following the abrogation of Article 370 of the Constitution of India, he has offered a political roadmap for securing the future of Jammu and Kashmir. He has been a persistent advocate of multiculturalism and of reconciliation between Kashmiri Pandits and Kashmiri Muslims.
Birth Chart and Planetary Positions of Amitabh Mattoo
---
Astrological portrait of Amitabh Mattoo
---
Here you will read about qualities of Amitabh Mattoo that may be familiar to you as well as a few that might seem new. Together the various features listed below, comprise an astrological portrait of Amitabh Mattoo as a unique person
For a more detailed analysis, check out Astro Reports.
How Amitabh Mattoo Appears to Others:
The Essence of Who Amitabh Mattoo Is:
Amitabh Mattoo's Emotions and Feelings:
How does Amitabh Mattoo Think and Communicate:
Amitabh Mattoo's Love and Romance:
Amitabh Mattoo's Drive and Ambition:
Current important phases/events in Amitabh Mattoo's life
---
Amitabh Mattoo's relationships
---
Astrological aspects and planetary data / tags for Amitabh Mattoo: Sun 4 Cancer, Moon 21 Aries, Mercury 13 Gemini, Venus 10 Leo, Mars 20 Taurus, Jupiter 12 Pisces, Saturn 10 Aquarius, Uranus 27 Leo, Neptune 10 Scorpio, Pluto 7 Virgo, Mercury Quincunx Neptune, Mercury Trine Saturn, Sun Semi Square Mars, Sun Sextile Pluto, Mercury Sextile Venus, Mercury Square Jupiter, Venus Quincunx Jupiter, Venus Opposition Saturn, Venus Square Neptune, Jupiter Trine Neptune, Jupiter Opposition Pluto, Saturn Square Neptune, Saturn Quincunx Pluto, Neptune Sextile Pluto
Categories related to Amitabh Mattoo: Living people, University of Illinois at Urbana–Champaign faculty, June 26 births, Alumni of the University of Oxford, 1962 births, Stanford University faculty, Recipients of the Padma Shri in literature & education, People from Srinagar, Jawaharlal Nehru University alumni, Jawaharlal Nehru University faculty, University of Notre Dame faculty, Kashmiri people, Indian foreign policy writers, Scholars of Indian foreign policy, Scholars from Jammu and Kashmir, University of Jammu
Photo attribution: Amitabhmattoo, Own work