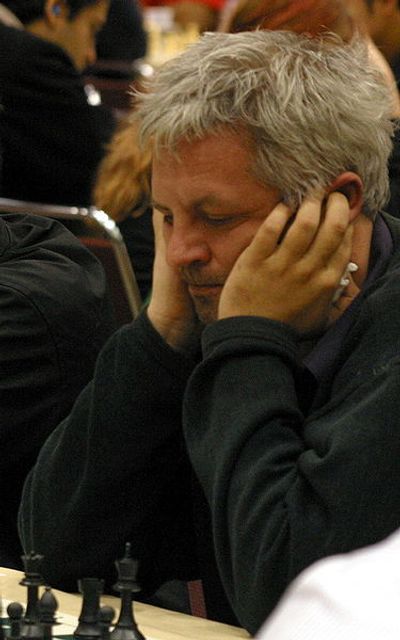 ---
About Aleksander Wojtkiewicz
---
Aleksander Wojtkiewicz (Latvian: Aleksandrs Voitkevičs; January 15, 1963 – July 14, 2006) was a Polish chess grandmaster. He was born in Latvia. In his early teens he was already a strong player; a student of ex-world champion Mikhail Tal whom he assisted in the 1979 Interzonal tournament in Riga. He won the Latvian Chess Championship in 1981. His promising chess career was interrupted when he refused to join the Soviet Army. For several years he went undercover but in 1986 he was sentenced to two years in prison. After one year he received an amnesty after the meeting of Presidents Ronald Reagan and Mikhail Gorbachev. Following his release he moved from Riga to Warsaw where he won two Polish Chess Championships. He played for Poland in the Chess Olympiads of 1990 and 1992.
External Links:
Birth Chart and Planetary Positions of Aleksander Wojtkiewicz
---
Astrological portrait of Aleksander Wojtkiewicz
---
Here you will read about qualities of Aleksander Wojtkiewicz that may be familiar to you as well as a few that might seem new. Together the various features listed below, comprise an astrological portrait of Aleksander Wojtkiewicz as a unique person
For a more detailed analysis, check out Astro Reports.
How Aleksander Wojtkiewicz Appears to Others:
The Essence of Who Aleksander Wojtkiewicz Is:
Aleksander Wojtkiewicz's Emotions and Feelings:
How does Aleksander Wojtkiewicz Think and Communicate:
Aleksander Wojtkiewicz's Love and Romance:
Aleksander Wojtkiewicz's Drive and Ambition:
Current important phases/events in Aleksander Wojtkiewicz's life
---
Aleksander Wojtkiewicz's relationships
---
Astrological aspects and planetary data / tags for Aleksander Wojtkiewicz: Sun 24 Capricorn, Moon 27 Virgo, Mercury 5 Aquarius, Venus 7 Sagittarius, Mars 22 Leo, Jupiter 11 Pisces, Saturn 11 Aquarius, Uranus 4 Virgo, Neptune 15 Scorpio, Pluto 11 Virgo, Sun Quincunx Mars, Mercury Quincunx Uranus, Mercury Conjunct Saturn, Sun Semi Square Venus, Sun Semi Square Jupiter, Sun Sesquiquadrate Pluto, Mercury Sextile Venus, Venus Square Jupiter, Venus Sextile Saturn, Venus Square Uranus, Venus Square Pluto, Jupiter Semi Sextile Saturn, Jupiter Trine Neptune, Jupiter Opposition Pluto, Saturn Square Neptune, Saturn Quincunx Pluto, Neptune Sextile Pluto
Categories related to Aleksander Wojtkiewicz: Chess grandmasters, 2006 deaths, January 15 births, 1963 births, American chess players, Polish chess players, Sportspeople from Riga, 20th-century chess players, Latvian chess players
Photo attribution: johnnyscars, cropped from Picture 589