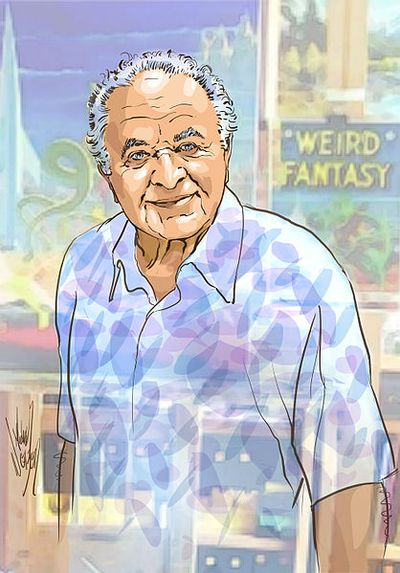 Brooklyn, New York, United States
---
About Al Feldstein
---
Albert Bernard Feldstein (/ˈfɛldstiːn/; October 24, 1925 – April 29, 2014) was an American writer, editor, and artist, best known for his work at EC Comics and, from 1956 to 1985, as the editor of the satirical magazine Mad. After retiring from Mad, Feldstein concentrated on American paintings of Western wildlife.
External Links:
Birth Chart and Planetary Positions of Al Feldstein
---
Astrological portrait of Al Feldstein
---
Here you will read about qualities of Al Feldstein that may be familiar to you as well as a few that might seem new. Together the various features listed below, comprise an astrological portrait of Al Feldstein as a unique person
For a more detailed analysis, check out Astro Reports.
How Al Feldstein Appears to Others:
The Essence of Who Al Feldstein Is:
Al Feldstein's Emotions and Feelings:
How does Al Feldstein Think and Communicate:
Al Feldstein's Love and Romance:
Al Feldstein's Drive and Ambition:
Current important phases/events in Al Feldstein's life
---
Al Feldstein's relationships
---
Astrological aspects and planetary data / tags for Al Feldstein: Sun 0 Scorpio, Moon 29 Capricorn, Mercury 11 Scorpio, Venus 15 Sagittarius, Mars 16 Libra, Jupiter 15 Capricorn, Saturn 15 Scorpio, Uranus 22 Pisces, Neptune 24 Leo, Pluto 14 Cancer, Mercury Conjunct Saturn, Sun Semi Square Venus, Mercury Sextile Jupiter, Mercury Trine Pluto, Venus Sextile Mars, Venus Semi Sextile Jupiter, Venus Semi Sextile Saturn, Venus Quincunx Pluto, Mars Square Jupiter, Mars Semi Sextile Saturn, Mars Square Pluto, Jupiter Sextile Saturn, Jupiter Opposition Pluto, Saturn Trine Pluto, Uranus Quincunx Neptune
Categories related to Al Feldstein: 20th-century American painters, American male painters, 21st-century American painters, 2014 deaths, October 24 births, Comics creator pop, Track variant DoB, Jewish American writers, Track variant DoD, Jewish American journalists, The High School of Music & Art alumni, American illustrators, American magazine editors, Artists from Brooklyn, Comics infobox image less alt text, Brooklyn, Jewish American artists, American satirists, Animal artists, Inkpot Award winners, People from Flatbush, Art Students League of New York alumni, Jewish painters, Will Eisner Award Hall of Fame inductees, Artists from Montana, EC Comics, Mad (magazine) people, 1925 births, Golden Age comics creators, Artists of the American West, Journalists from Montana
Photo attribution: MichaelNetzer, Own work