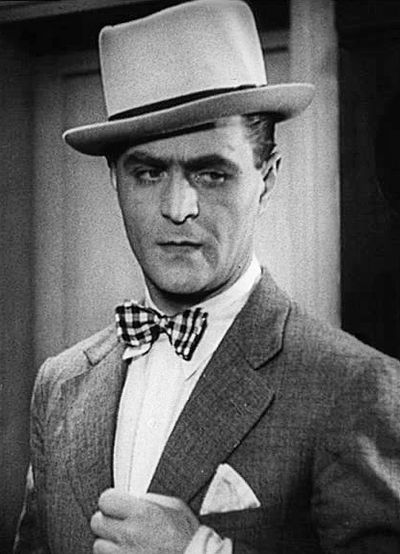 ---
About Adolf Dymsza
---
Adolf Dymsza (born Adolf Bagiński; 7 April 1900 – 20 August 1975) was a Polish comedy actor of both the pre-World War II and post-war eras. He starred in both theatre and film productions, mainly before World War II. He and Kazimierz Krukowski performed as the duo Lopek and Florek in kleynkunst productions at Qui Pro Quo and other noted Warsaw cabarets. Another pseudonym was "Dodek." He was arguably the most popular Polish comic actor of the 1930s, Andrzej Wajda remarked once, that for him Dymsza was a symbol of pre-war Polish cinema in general. To this day he is considered the king of Polish film comedy.
External Links:
Birth Chart and Planetary Positions of Adolf Dymsza
---
Astrological portrait of Adolf Dymsza
---
Here you will read about qualities of Adolf Dymsza that may be familiar to you as well as a few that might seem new. Together the various features listed below, comprise an astrological portrait of Adolf Dymsza as a unique person
For a more detailed analysis, check out Astro Reports.
How Adolf Dymsza Appears to Others:
The Essence of Who Adolf Dymsza Is:
Adolf Dymsza's Emotions and Feelings:
How does Adolf Dymsza Think and Communicate:
Adolf Dymsza's Love and Romance:
Adolf Dymsza's Drive and Ambition:
Current important phases/events in Adolf Dymsza's life
---
Adolf Dymsza's relationships
---
Astrological aspects and planetary data / tags for Adolf Dymsza: Sun 17 Aries, Moon 23 Cancer, Mercury 26 Pisces, Venus 1 Gemini, Mars 29 Pisces, Jupiter 10 Sagittarius, Saturn 4 Capricorn, Uranus 12 Sagittarius, Neptune 24 Gemini, Pluto 14 Gemini, Asc 7 Leo, Mc 16 Aries, Sun Trine Uranus, Moon Trine Mercury, Mercury Square Neptune, Sun Semi Square Venus, Sun Sextile Pluto, Sun Conjunct Midheaven, Moon Sesquiquadrate Jupiter, Moon Semi Sextile Neptune, Mercury Conjunct Mars, Venus Sextile Mars, Venus Semi Square Midheaven, Mars Square Neptune, Jupiter Conjunct Uranus, Jupiter Opposition Pluto, Jupiter Trine Ascendant, Saturn Quincunx Ascendant, Uranus Opposition Pluto, Uranus Trine Ascendant, Uranus Trine Midheaven, Neptune Semi Square Ascendant, Pluto Sextile Midheaven
Categories related to Adolf Dymsza: April 7 births, Polish male film actors, Polish male stage actors, Burials at Powązki Cemetery, 20th-century Polish male actors, Polish cabaret performers, 1975 deaths, 20th-century comedians, 1900 births, Polish male silent film actors
Photo attribution: Antoni Wawrzyniak, filmpolski.pl