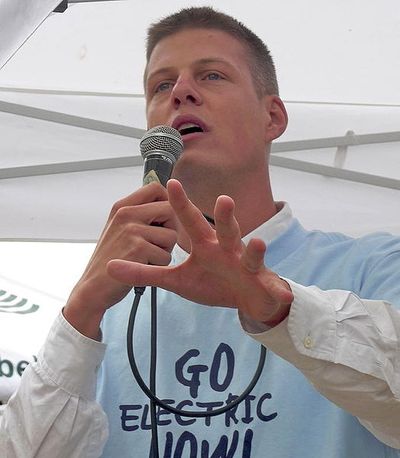 ---
About Adam Giambrone
---
Adam Giambrone (born March 8, 1977) is a Canadian politician and transportation consultant. He was a Toronto City Councillor, representing the southern of two Davenport wards. Elected at 26, he remained the youngest member of Toronto council after re-election. He was president of the federal New Democratic Party (NDP) from 2001 to 2005. He was the 2008 recipient of Now Magazine's "Best City Politician" award.
External Links:
Birth Chart and Planetary Positions of Adam Giambrone
---
Astrological portrait of Adam Giambrone
---
Here you will read about qualities of Adam Giambrone that may be familiar to you as well as a few that might seem new. Together the various features listed below, comprise an astrological portrait of Adam Giambrone as a unique person
For a more detailed analysis, check out Astro Reports.
How Adam Giambrone Appears to Others:
The Essence of Who Adam Giambrone Is:
Adam Giambrone's Emotions and Feelings:
How does Adam Giambrone Think and Communicate:
Adam Giambrone's Love and Romance:
Adam Giambrone's Drive and Ambition:
Current important phases/events in Adam Giambrone's life
---
Adam Giambrone's relationships
---
Astrological aspects and planetary data / tags for Adam Giambrone: Sun 18 Pisces, Moon 27 Libra, Mercury 11 Pisces, Venus 23 Aries, Mars 21 Aquarius, Jupiter 25 Taurus, Saturn 10 Leo, Uranus 11 Scorpio, Neptune 16 Sagittarius, Pluto 13 Libra, Sun Square Neptune, Mercury Quincunx Saturn, Sun Conjunct Mercury, Mercury Square Neptune, Mercury Quincunx Pluto, Mercury Semi Square Venus, Mercury Trine Uranus, Venus Sextile Mars, Venus Semi Sextile Jupiter, Mars Square Jupiter, Saturn Square Uranus, Saturn Sextile Pluto, Uranus Semi Sextile Pluto, Neptune Sextile Pluto
Categories related to Adam Giambrone: Living people, March 8 births, McGill University alumni, CanElecResTopTest with bare year, Canadian people of Italian descent, Canadian people of American descent, 1977 births, Presidents of the New Democratic Party of Canada, New Democratic Party candidates for the Canadian House of Commons, Toronto city councillors, Wikipedia introduction cleanup from January 2019, Chairs of the Toronto Transit Commission
Photo attribution: Abebenjoe, Own work