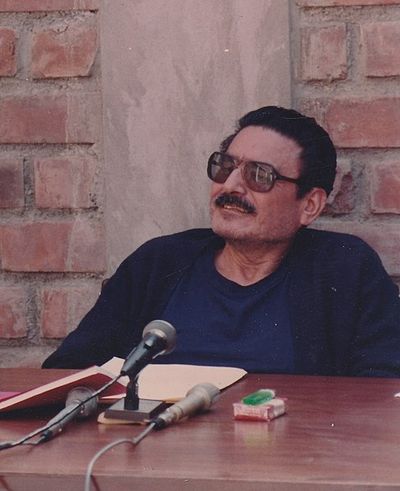 ---
About Abimael Guzman
---
Manuel Rubén Abimael Guzmán Reynoso (American Spanish: [maˈnwel ruˈβen aβimaˈel ɡuzˈman rejˈnoso]; born 3 December 1934), also known by the nom de guerre Chairman Gonzalo (Spanish: Presidente Gonzalo), is the former leader of the Shining Path during the Maoist insurgency known as the internal conflict in Peru. He was captured by the Peruvian government in 1992 and sentenced to life imprisonment for terrorism and treason.
Birth Chart and Planetary Positions of Abimael Guzman
---
Astrological portrait of Abimael Guzman
---
Here you will read about qualities of Abimael Guzman that may be familiar to you as well as a few that might seem new. Together the various features listed below, comprise an astrological portrait of Abimael Guzman as a unique person
For a more detailed analysis, check out Astro Reports.
How Abimael Guzman Appears to Others:
The Essence of Who Abimael Guzman Is:
Abimael Guzman's Emotions and Feelings:
How does Abimael Guzman Think and Communicate:
Abimael Guzman's Love and Romance:
Abimael Guzman's Drive and Ambition:
Current important phases/events in Abimael Guzman's life
---
Abimael Guzman's relationships
---
Astrological aspects and planetary data / tags for Abimael Guzman: Sun 10 Sagittarius, Moon 3 Scorpio, Mercury 26 Scorpio, Venus 14 Sagittarius, Mars 26 Virgo, Jupiter 11 Scorpio, Saturn 22 Aquarius, Uranus 27 Aries, Neptune 14 Virgo, Pluto 25 Cancer, Asc 14 Aries, Mc 13 Capricorn, Sun Trine Ascendant, Sun Conjunct Venus, Mercury Quincunx Uranus, Sun Square Neptune, Mercury Square Saturn, Sun Semi Sextile Jupiter, Sun Sesquiquadrate Uranus, Sun Sesquiquadrate Pluto, Mercury Sextile Mars, Mercury Trine Pluto, Mercury Semi Square Midheaven, Venus Sesquiquadrate Uranus, Venus Square Neptune, Venus Trine Ascendant, Venus Semi Sextile Midheaven, Mars Semi Square Jupiter, Mars Quincunx Uranus, Mars Sextile Pluto, Jupiter Sextile Neptune, Jupiter Quincunx Ascendant, Jupiter Sextile Midheaven, Uranus Sesquiquadrate Neptune, Uranus Square Pluto, Neptune Quincunx Ascendant, Neptune Trine Midheaven, Ascendant Square Midheaven
Categories related to Abimael Guzman: Living people, December 3 births, People from Arequipa, People convicted on terrorism charges, People imprisoned on charges of terrorism, Anti-revisionists, Peruvian communists, Peruvian revolutionaries, Maoist theorists, 1934 births, Peruvian atheists, Peruvian criminals, Peruvian philosophers, Peruvian prisoners sentenced to life imprisonment, Prisoners sentenced to life imprisonment by Peru, National University of Saint Augustine alumni, Members of the Shining Path
Photo attribution: Puskechina, Own work