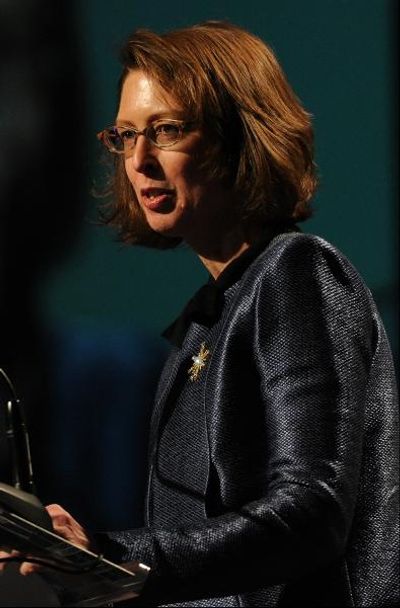 Abigail Pierrepont Johnson
Boston, Massachusetts, United States
---
About Abigail Johnson
---
Abigail Pierrepont Johnson (born December 19, 1961) is an American billionaire businesswoman. Since 2014, Johnson has been president and chief executive officer of American investment firm Fidelity Investments (FMR), and chairman of its international sister company Fidelity International (FIL). Fidelity was founded by her grandfather Edward C. Johnson II. Her father Edward C. "Ned" Johnson III remains chairman emeritus of FMR. As of March 2013, the Johnson family owned a 49% stake in the company, with Johnson herself holding an estimated 24.5%.
Birth Chart and Planetary Positions of Abigail Johnson
---
Astrological portrait of Abigail Johnson
---
Here you will read about qualities of Abigail Johnson that may be familiar to you as well as a few that might seem new. Together the various features listed below, comprise an astrological portrait of Abigail Johnson as a unique person
For a more detailed analysis, check out Astro Reports.
How Abigail Johnson Appears to Others:
The Essence of Who Abigail Johnson Is:
Abigail Johnson's Emotions and Feelings:
How does Abigail Johnson Think and Communicate:
Abigail Johnson's Love and Romance:
Abigail Johnson's Drive and Ambition:
Current important phases/events in Abigail Johnson's life
---
Abigail Johnson's relationships
---
Astrological aspects and planetary data / tags for Abigail Johnson: Sun 27 Sagittarius, Moon 1 Gemini, Mercury 29 Sagittarius, Venus 18 Sagittarius, Mars 26 Sagittarius, Jupiter 7 Aquarius, Saturn 28 Capricorn, Uranus 0 Virgo, Neptune 12 Scorpio, Pluto 10 Virgo, Asc 6 Gemini, Mc 10 Aquarius, Sun Conjunct Mars, Sun Trine Uranus, Moon Conjunct Ascendant, Moon Square Uranus, Sun Conjunct Mercury, Moon Trine Saturn, Moon Quincunx Mercury, Sun Semi Sextile Saturn, Sun Semi Square Neptune, Sun Semi Square Midheaven, Mercury Conjunct Mars, Mercury Semi Sextile Saturn, Mercury Trine Uranus, Mercury Semi Square Neptune, Mars Trine Uranus, Mars Semi Square Neptune, Mars Semi Square Midheaven, Jupiter Square Neptune, Jupiter Quincunx Pluto, Jupiter Trine Ascendant, Jupiter Conjunct Midheaven, Saturn Quincunx Uranus, Neptune Sextile Pluto, Neptune Square Midheaven, Pluto Square Ascendant, Pluto Quincunx Midheaven, Ascendant Trine Midheaven
Categories related to Abigail Johnson: Living people, December 19 births, American women chief executives, 20th-century American businesspeople, 21st-century American businesspeople, 21st-century businesswomen, American chairmen of corporations, American billionaires, Harvard Business School alumni, Businesspeople from Boston, American chief executives of financial services companies, 1961 births, Booz Allen Hamilton people, Hobart and William Smith Colleges alumni, Buckingham Browne & Nichols School alumni, 20th-century American businesswomen, Female billionaires, Women in finance, Fidelity International
Photo attribution: Singhaniket255, Own work