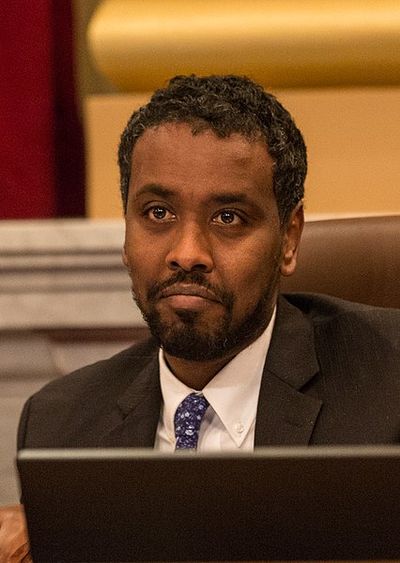 Mogadishu, Banaadir, Somalia
---
About Abdi Warsame
---
Abdi Warsame (Somali: Cabdi Warsame, Arabic: عبدي وارسام) (born 1978) is a Somali-American politician in Minnesota's Democratic–Farmer–Labor Party. After moving to London as an asylum-seeker, he immigrated to Minnesota in 2006. In November 2013, he was elected to the Minneapolis City Council, becoming the first Somali official to be elected to the position. Warsame was reelected for a second term in 2017. He resigned from the position in 2020 to become the head of the Minneapolis Public Housing Authority.
External Links:
Birth Chart and Planetary Positions of Abdi Warsame
---
Astrological portrait of Abdi Warsame
---
Here you will read about qualities of Abdi Warsame that may be familiar to you as well as a few that might seem new. Together the various features listed below, comprise an astrological portrait of Abdi Warsame as a unique person
For a more detailed analysis, check out Astro Reports.
How Abdi Warsame Appears to Others:
The Essence of Who Abdi Warsame Is:
Abdi Warsame's Emotions and Feelings:
How does Abdi Warsame Think and Communicate:
Abdi Warsame's Love and Romance:
Abdi Warsame's Drive and Ambition:
Current important phases/events in Abdi Warsame's life
---
Abdi Warsame's relationships
---
Astrological aspects and planetary data / tags for Abdi Warsame: Sun 14 Pisces, Moon 24 Capricorn, Mercury 20 Pisces, Venus 24 Pisces, Mars 22 Cancer, Jupiter 26 Gemini, Saturn 25 Leo, Uranus 16 Scorpio, Neptune 18 Sagittarius, Pluto 16 Libra, Sun Trine Uranus, Sun Quincunx Pluto, Sun Square Neptune, Mercury Conjunct Venus, Sun Conjunct Mercury, Mercury Square Neptune, Mercury Trine Mars, Mercury Trine Uranus, Venus Trine Mars, Venus Square Jupiter, Venus Quincunx Saturn, Jupiter Sextile Saturn, Uranus Semi Sextile Neptune, Uranus Semi Sextile Pluto, Neptune Sextile Pluto
Categories related to Abdi Warsame: Living people, March 5 births, Alumni of the University of Greenwich, 1978 births, Minneapolis City Council members, Alumni of Middlesex University, Somalian emigrants to the United States
Photo attribution: Tony Webster from Portland, Oregon, Abdi Warsame, Minneapolis City Council Member